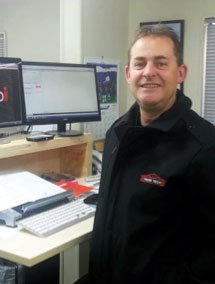 Truss Tech Ltd is a locally-owned and operated business, located in Central Otago's Cromwell. The company specializes in pre-nailed timber wall frames and roof trusses, for both residential and commercial construction for Juken New Zealand.
Paul Robertson and his wife Nicky have owned the business for 15 years. Truss Tech supplies to a range of customers; including housing companies, individual builders, and architects. "We do a full spectrum of work, but the new homes in this region tend to be high-end, complex builds," says Paul. Across the board, there's also a growing marketplace demand for high quality construction materials. "These days, home-owners are generally a lot better informed about the products going into their houses. I think peoples' expectations have changed; there's more demand for that level of quality."
A Premium Choice
In 2009, Truss Tech became a South Island distributor for J-Frame. Paul says J-Frame is an ideal fit for his business, which always strives to offer premium products. "I think you have to have a point of difference to succeed in the construction industry today," says Paul.
"We're always looking to offer better-than-average products to the market, which is one of the reasons we chose to work with Juken and J-Frame."
As Paul explains, working with the superior product has delivered two major benefits to his business.
Greater productivity; and less waste
Since they started working with J-Frame, the productivity gains for Truss Tech have been significant – in the region of 20%.
"Because the timber is always straight, the guys who are assembling it are not having to double-check everything. Every single piece is suitable."
Paul says the other "huge advantage" from a manufacturing point of view is the lack of waste. "We have nearly zero wastage, because there's no timber that's bent or buckled. Most plants would have to factor in between 5-8 per cent wastage.
Ours is less than 1 per cent. That makes a huge difference to your bottom line."